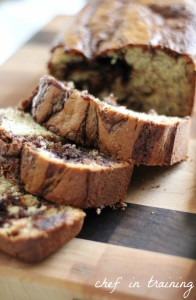 Nutella added INTO banana bread? Yes! It's a simple recipe to make such delicious bread that you'll never go back to "regular" banana bread again. Thanks to Chef In Training for the yummy recipe!
Ingredients:
1 cup sugar
2 large eggs
1 1/4 cup mashed ripe bananas
1 tsp. vanilla
1/3 cup milk
3/4 heaping cup Nutella
2 cups flour
3/4 tsp. baking soda
1/2 tsp. salt
1/4 cup softened butter

Directions:
Preheat oven to 350 degrees and spray an 8×4-inch loaf pan with nonstick spray.
Whisk together flour, baking soda and salt in a medium sized bowl.
Beat sugar and butter in another large bowl with an electric mixer at medium speed until fully blended. Add the eggs, one at a time, beating well after each one. Add banana, milk and vanilla, then beat until blended. Add the flour mixture from the other bowl and beat at low speed just until flour is mixed in, but not too blended.
Put the Nutella into a small dish and warm in the microwave for 15 seconds. Add 1 cup of the banana bread batter to the Nutella in the bowl and stir them together until well blended.
Add this newly made Nutella batter, then the plain banana bread batter in alternating layers into the bread pan. Lightly swirl the two types of batter with a knife.
Bake at 350 degrees for 50 to 60 minutes. The bread will seem a little underbaked, but that's what makes it so good and moist! Let the bread cool for at least 15 minutes in the pan before taking it out of the pan to cool completely.