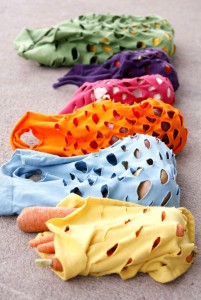 Going to the local farmer's market is a great way to get fresh produce and support local growers, but you definitely need produce bags to keep your food safe. Instead of pay $5 or more per bag, create your own using old t-shirts and very little sewing. All you need is a t-shirt, scissors, a sewing machine, and a pen.
This amazing and simple tutorial comes from Delias Creates. She has a visual, step-by-step tutorial for extra help if you need it.
Turn an old, clean t-shirt inside out, then draw a shape for the bad you like – square or round – and as large as you want it. You can make 2 out of one t-shirt if you make them small, or a large one out of a whole t-shirt.

Sew the 2 sides together using either a straight stitch or narrow zig-zag going around the edges, leaving 1 side open.
Flip it right side out, then finish the seams by straight stitching around the edges again.
Now, draw lines sporadically across the bag in lines about 2-3″ long, spaced at least an inch between each line both sideways and on top and bottom apart.
Draw the shape of a hole for your handle at the top of the fabric.
Now, cut the lines and handle through the 2 layers. Be careful to not cut too far and combine 2 cuts together.
Now, stretch the fabric out and it's ready to use! So simple!