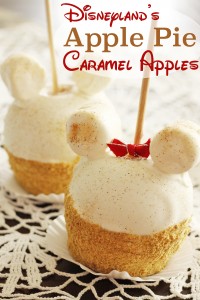 These Apple Pie Caramel Apples are a huge hit! I was able to find a recipe to make them at home, and it's not as hard as it looks.
Ingredients:
4 large Granny Smith apples
5 to 6 cups caramels (or appx. 1 bag Kraft Caramel bits)
7 to 8 cinnamon graham crackers (or 1 prepared pie crust)
1 .5 lbs. melting chocolates (or chocolate chips)
cinnamon & sugar to taste (appx 2 Tbsp sugar + 1/8 tsp. cinnamon)
8 large marshmallows (optional: to make "ears")
Directions:
To get the wax coating off from the apples, scrub apples and dry with a dishcloth or paper towel. To get the wax completely off, drop them in boiling water for a few seconds then scrub off.
Refrigerate apples for a few hours until they are fully cold.
Melt caramel in the microwave (in a microwave-safe dish) for 30 seconds at a time until caramel is nice and melted (or follow directions on package if using  Bits). If you are using unwrapped caramels, you can also put caramels in a small crockpot on high heat until melted.
Place caramel apple sticks or popsicle sticks into the top of each apple and dip each apple into the caramel until fully coated, rotating the apple as needed. Let excess caramel drip off and them place the apples on wax paper. Refrigerate for at least 3 hours until caramel is completely cooled onto the apples.
In a food processor, process graham crackers (or pie crust) until well blended. If using a pie crust, add a little cinnamon and sugar to the mixture. Place in a bowl and set aside.
Melt chocolate in a microwave-safe dish in the microwave until chocolate is just melted and there are no lumps. Dip each apple in the chocolate and allow chocolate to set for a few seconds. When chocolate has slightly set, roll the bottom half in processed pie or cracker crumbs. Sprinkle each entire apple with cinnamon and sugar and set aside.
Optional: Once the chocolate on the apples have set, roll each marshmallow in the chocolate and place onto the apples to make Mickey's "ears". Sprinkle with cinnamon and sugar and hold in place until the ears set.
A HUGE thanks to Favorite Family Recipes for the awesome recipe and picture!