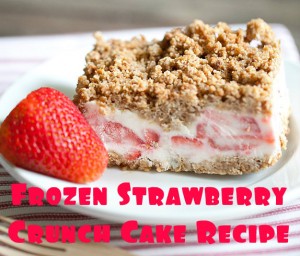 This simple take on an ice cream cake will be a big hit at your next family get together, or even just for dessert tonight! The Frozen Strawberry Crunch Cake from Spoonful calls for Nature Valley bars, but regular granola would work just fine as well.
Ingredients:
1 box Nature Valley Granola Bars
1/3 cup brown sugar
1/2 cup flour
6 tablespoons melted butter
2 egg whites
1/2 cup sugar
1 cup heavy whipping cream
1 lemon
4 ounces cream cheese
1 1/2 cups freshly chopped strawberries
Directions:
Unwrap and put the Nature Valley granola bars (or regular granola) in a food processor until you it becomes a course crumb.
In a large bowl, add crumbs, brown sugar, flour, and melted butter, then mix together. Spread into an 8×8″ pan covered with parchment paper.
Bake at 350ºF for 20 minutes. Let cool completely, then divide in half and set aside.
In a mixing bowl, combine eggs whites and sugar, then mix on high. Add the heavy cream and continue to mix for another 5 minutes.
Add the lemon juice and softened cream cheese to mixture, then mix on low speed until completely combined.
Fold the strawberries into the cream mixture until as evenly mixed as possible.
In a glass cake pan that has been buttered fully, press half of the crumb crust mixture to the bottom, then top with strawberry mix, then add the rest of the granola crumbs to the top.
Cover and freeze for  at least three hours. ENJOY!