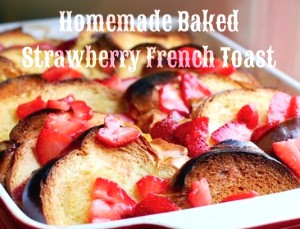 My kids love breakfast.  French Toast is one of their favorites.  They will eat slice after slice, covered in fruit and drizzled with a little real maple syrup.  I make homemade Challah Bread or other sweet bread and then slice it up, freeze it and then it is all ready to go when the kids want me to make this.  It is super simple.
Sometimes when I am up at the crack of dawn, I will fix this up and put it in the oven about 45 minutes before everyone's set to wake up.  The house smells divine…it's sort of like Christmas Morning…you have that warm fuzzy, it's going to be an amazing day sort of vibe.
If you don't have strawberries, peaches, blueberries and other berries work well.  You'll love the recipe…it's so easy!
Baked Strawberry French Toast
1 loaf day old challah, sliced into 3/4" thick slices
1 cup strawberries, hulled and sliced, plus more for garnish
4 eggs
3 1/2 cups milk
3 teaspoons sugar
1 teaspoon salt
2 teaspoons fresh grated nutmeg
zest of 1 lemon
1 tablespoon vanilla extract
Cinnamon for dusting over the top
Butter a 9 x 13" baking pan. Arrange the challah slices so that they are overlapping, tearing a few pieces in half if needed. Tuck the strawberries between the slices.
In a medium mixing bowl, lightly beat the eggs. Whisk in the milk, sugar, salt, nutmeg, zest, and vanilla. Then pour mixture over the challah.
Make sure that all of the slices are just about covered by the egg mixture–add more milk or rearrange the slices until they are. If refrigerating overnight, cover and chill. Otherwise, cover and refrigerate for a half hour, or longer if you have time.
Then preheat your oven to 350 degrees and take the baking dish out of the fridge. Once the oven is up to temperature, bake for 40 – 45 minutes, until the french toast is a light golden brown and has puffed up nicely.
Slice and serve immediately with maple syrup and sliced strawberries. Sprinkle lightly with cinnamon.