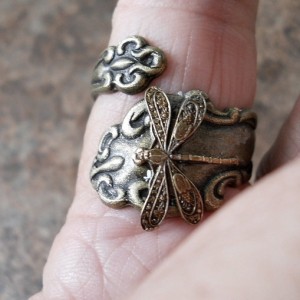 I've seen these made for a while now, but why I never thought to look for how to do it myself is beyond me. I have seen these being sold for $20 or more! No way! Just go to the thrift store and look for the coolest, most intricate design and do it yourself. It'd also be a fun way to remember Grandma's place settings. This great tutorial has pictures along with the steps at Through The Front Door by Kirsten Danielle Design.
What You'll Need:
.925 or .900 sterling silver spoon or fork (must be sterling for it to work)
Metal cutter, hacksaw, or jewelry saw
File or sandpaper
Dowel or ring mandrel
Paper
Pen
Hammer or mallet (optional)
Butane torch (optional)
 Directions:
The first thing you are going to want to do is to decide what type of ring you want to make.  You can either make one that coils up your finger or you can make the one that folds over itself.  The one you choose determines the length of the handle (longer for the one that wraps up your finger).
If you are making the type that overlaps itself (not coil up your finger) use a strip of paper and wrap it loosely around the finger you want to wear the ring. Mark the overlap by .25″ so it will go over itself.
Using metal cutter or saw, cut the length you measured in the last step or cut it right under the utensil part of the silverware if you are doing the coil ring.
File the cut end with either a metal file or a coarse grit sandpaper.  Work your way down to a fine grit sand paper to get a super-smooth finish.
Now you must bend it into a ring shape. You can bend it around the dowel using shear force, you can hammer it around the dowel, or you can use a butane torch to heat it up before you bend it. If the metal is pliable enough, you can just bend it by hand.
Adjust to your finger to make sure it's shaped correctly.
Use sterling cleaner or buff the silver to shine. That's it!