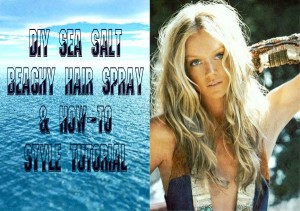 I love the look of beach waves, but to buy a bottle of sea salt beach hair spray can cost upwards of $12. This tutorial will cost you only a couple of dollars, works just as well, and will smell even better!
 Plastic spray bottle (you can grab these at the dollar store)
 1 tsp sea salt (NOT table salt!)
 8 oz water
 1/2 tsp coconut oil, olive oil or light conditioner (coconut oil is the best and smells most beachy!)
 3 drops essential oil of your choice
 Lemon juice (optional)
Directions:
Remove the top from the spray bottle. Pour water into the plastic spray bottle.
Add sea salt to the bottle. The more salt you add, the more "crunchy," textured and beachy your hair will feel, but dryer as well.
Add moisturizer to combat the drying factor of the salt. Use coconut oil, olive oil or light conditioner. Avoid adding more than a teaspoon because it can weigh down your hair instead of adding wavy volume.
Add essential oil for fragrance and additional benefits of your choice. For example, rose essential oil aids hydration and peppermint helps with headaches. Choose your favorite oil based on scent and healing properties.
Close the top of the bottle tightly and shake the bottle's ingredients vigorously for ingredients to mix. If you don't shake the bottle VERY HARD, the oil will remain on the surface and the salt on the bottom.
Spray all over hair until it becomes very damp. Scrunch your damp locks with your fingers to accentuate its natural wave. Let your hair air dry.  Note: If your hair is naturally straight, twist your locks to achieve better results. Twist locks of your hair into buns. Pin them on your head with hair pins. When your hair is almost dry, unwrap your locks and let them out of the buns gently. Let air dry fully.
Style as you'd like or leave as is. Spray with a layer of hairspray for extra support.
Store the spray bottle and mixture in the fridge when not in use. Shake very hard before each use.