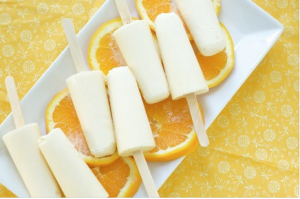 When I spied these yummy pops this morning on Pinterest, I almost fell over.  I had found this recipe last year, tried it, loved it and then lost the link to the site!  I was so excited to see it pop up today on one of the pages that I follow.
These are so good.  I mean, you will want to eat a couple of them good!  Make sure you let them freeze really well before you serve them!  Thanks to OvenLove for the great post…and to whom ever out there in the Pinterest landscape for pinning it for the world to see! I made a slight change to the recipe but it is good either way!
Ingredients
1 cup orange juice (fresh or frozen. you could also use orange juice concentrate for a stronger orange flavor)
1 cup heavy cream (you could also substitute melted/very soft vanilla ice cream, Dreyer's Slow churn works really well)
3 tablespoons honey, use a mild flavored honey sage or wild flower is best
¼ teaspoon orange extract
½ teaspoon vanilla extract (you can also use vanilla bean paste…it's amazing!)
3/4 cup Mini Chocolate Chips (optional but amazing)
Instructions
In a medium bowl, whisk all ingredients together. Then add the chips if you are using them.
Pour mixture into popsicle molds. Let set for 30-60 minutes, then add popsicle sticks. Freeze for another 4-6 hours or until frozen.
When you're ready to serve, run some warm water along your popsicle mold to loosen the popsicles and serve immediately.
One of my friends melted the chocolate chips and then coated the insides of the popsicle molds with melted chocolate drizzles before pouring in the mixture.  This also worked well!