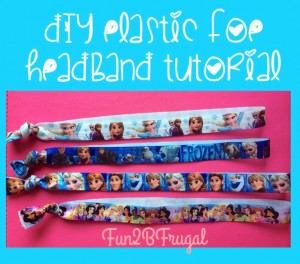 You can either spend $3 or more for one headband on Etsy or other shop, OR you can follow my directions to make adult and/or children's sized elastic headbands for about $1 or less and in the design of color of your choice. I chose to do it on my own when I found an epic deal on Frozen and Disney Princess FOE for literally less than $1 per yard shipped on a Groopdealz or Jane steal, so I had to figure it out to surprise my girls and use my own pictures as the tutorial!  The headbands literally took me less than 2 minutes to make 2-3 and look exactly like what you buy at the stores – and this is my first time making them :)
You can also make your own elastic hair ties with the tutorial I posted previously, and you can make ties with leftover FOE.
Note: Some shops take a long time to ship, so order in plenty of time if you are (or your child is) going to need to wear the headband for a special occasion.
What You'll Need:
Fold Over Elastic (FOE) ordered with the designs or colors you want (1 headband: 18″ for big kids & adults, 16″ for baby/toddler)
Scissors
Ruler or measuring tape
Optional: Lighter or matches
Directions:
Gather all supplies and decide which sized headbands you are making – adults and kids 4+ wear 18-in long FOE, while toddlers and babies wear 16-in long FOE. Use your best judgement on each. It's better to cut too long then crop down than to cut too short and have to make them into hair ties.
Measure out your first length of FOE. DO NOT STRETCH THE ELASTIC WHILE MEASURING! This will make the length inaccurate. Double check the length measurement again, then cut the elastic.
Using the elastic you just cut as your guide, cut as many pieces of the FOE as you'd like to make into headbands.
Fold in half the first headband and line up the edges. If they aren't straight, cut them into a straight line.
Now is the time you can decide to use a lighter or a match to melt the edges together to prevent fraying in the future. I didn't do it, but I may choose to do it later.
Holding both ends, tie the headband ends together as closely to the end as you can and tighten into as small of a knot as you can.
Repeat 4-6 until you are finished with all your headbands. This should only take you a few minutes to make 10 or more headbands!