Recipe: Apple Pie "French Fries"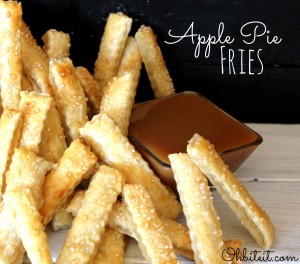 Okay, so maybe these Apple Pie "French Fries" aren't the healthiest snack, but how cute are they? They look like real French fries with salt and shape. These would be really fun to have at a birthday party. The recipe below from Oh Bite It! serves 25-30 "fries", so you may need more than that for parties.
Ingredients:
1 pkg of Pillsbury refrigerated pie crusts (2 ct., but brand doesn't matter)
1.5 cups of Apple Pie Filling
1 Egg
Sparkle sugar for sprinkling "salt" onto the fries
Caramel sauce and/or ice cream for dipping
Optional: Food processor, Decorative edge roll-cutter
Directions:
Chop up apple pie filling as best as you can, or use food processor and save tons of time.
Unroll the 2 pie crusts. On 1 of the crusts, spread the apple filling around leaving 1/8″ at edge, then lightly press the other crust onto the top of it to secure it.
Make egg wash by combining an egg with a splash of water.
Brush egg wash across the entire top of the crust and sprinkle with the sparkle sugar.
Cut the crust into  1/2″ strips then again into "fries" shape and size. Place very carefully onto parchment paper lined baking sheet.
Bake at 350-degrees for 12 minutes or until slightly golden and firm.
Serve with caramel and/or ice cream for dipping.