Weekly Walmart Trip 8/29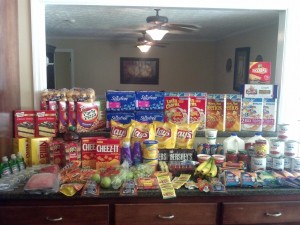 I had an awesome Walmart trip today, besides the fact that I am deathly sick.  I went while the kids were at school so that helped a little bit.  It was also very slow today and the cashiers knew most of the price match items already!  I have several items I got today that aren't pictured because I handed them out as I was leaving the store.  The reason I did this is because several people were asking me how to use coupons and I felt like I was giving a mini coupon class, and you know at my classes I give FUN stuff away!  I also had several FREE product coupons such as Nivea, BIC Razors, Mach3 Razors, Aussie shampoo & conditioner, Nabisco Crackers, so that helped with my bill.
I am sorry, but because I'm so sick I have to put off making the full matchup.  To see the Walmart Price Match list go HERE & HERE.
Subtotal Before Price Matching & Coupons $303.53
Subtotal After Price Matching $205.60
Subtotal After Coupon $97.93 *That's A LOT of coupons!
Thanks, April & Kellie for being so awesome!