Recipe: Pumpkin Sheet Cake With Cream Cheese Frosting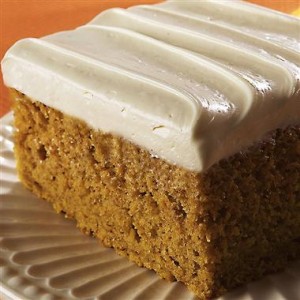 It's that time of year again — PUMPKIN EVERYTHING!!! Instead of going to the store or bakery, you can make your own super easy pumpkin cake at home with a recipe from Eat at Home.
Ingredients & Directions for Pumpkin Cake:
16 oz can of pumpkin
2 cups of sugar
1 cup of vegetable oil
4 eggs, beaten
2 cups of flour
2 tsp of baking soda
2 tsp  of cinnamon
1/4 tsp of nutmeg
1/2 tsp of salt
Beat the pumpkin, sugar and oil in a medium mixing bowl. Then add eggs and mix well.
Combine the dry ingredients and add to the pumpkin mixture, beating until well blended.
Pour into a greased 10×15 inch baking pan.
Bake for 25-35 minutes at 350 degrees.
Cool the cake completely and then frost it with the cream cheese frosting.
Here's what you'll need for the frosting:
Ingredients & Directions For the Cream Cheese Frosting:
5 Tbs of butter, softened
3 oz of cream cheese, softened
1 tsp of vanilla
1-3/4 cups of powdered sugar
3-4 tsp of milk
Optional: Chopped nuts or fall candies for the top
Beat the butter and cream cheese together.  Add the vanilla and blend till smooth.
Gradually add the powdered sugar and mix well.
Add the milk a bit at a time until you get it to a spreadable consistency.
Spread gently and evenly over the cooled pumpkin cake.
Optional: Add the nuts or candies to the top of the cake evenly or in a decorative fashion.