Recipe: 2-Ingredient Pumpkin Cake with Apple Cider Glaze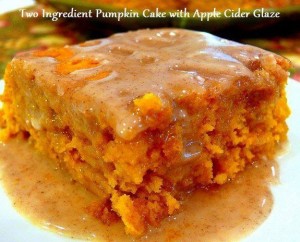 Seriously, only 2-ingredients for the cake! You can't go wrong. This is going to be a yearly recipe. Pin it so you can save it for years to come!
Ingredients:
Cake:
1 box of yellow cake mix

1 can (15 oz) of pumpkin puree
Glaze:
1 1/2 cups of powdered sugar

3 Tbsp apple cider
3/4 tsp pumpkin pie spice
Directions:
Empty the contents of the boxed cake mix and pumpkin puree into a large bowl. Using a hand or stand mixer, beat until well mixed together. The batter will be very thick, but it will mix well.
Pour batter into a greased 7 x 11 x 2 pan (the small rectangular pan). Bake at 350-degrees for 28 minutes or until toothpick inserted into center comes out clean. DO NOT OVER BAKE!
Let cool for 5-10 minutes in the pan, then flip cake onto a plate. While waiting for the cake to cool in the pan, make the gaze.
Combine powdered sugar, apple cider, and pumpkin pie spice. Glaze should be thick, but thin enough to pour. Add more sugar or apple cider to find the right consistency.
Pour glaze over the cake while it's still warm to allow it to harden onto the cake.
Make more glaze or set aside some to pour onto each piece when served.