OfficeMax: MaxPerks Rewards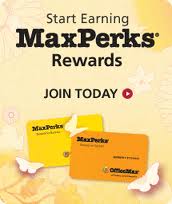 After posting my Follow Me Friday video on Office Max, I've received quite a few e-mails on how the MaxPerks work.  First let me say it's super easy!  And, I went in to Office Max with $80 MaxPerks to start with.  So, after they took those off, I only spent $5 out of pocket, and still left with $84 MaxPerks.  Ok, let's get started.
The MaxPerks Rewards system is an OfficeMax® customer reward program that allows you to earn $25 in rewards to spend at OfficeMax for every $500 in qualified purchases that you make during the year. If you are a teacher, you will earn $10 for every $75 spent.  Also, from time to time, OfficeMax may offer MaxPerks Bonus Rewards for purchases of specified products. *See picture below* You will also receive exclusive savings offers through the mail and email if you opt in.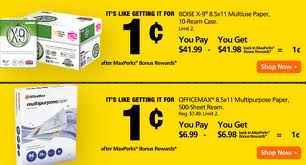 In this picture they are having a MaxPerks Bonus Reward on the Boise x-9 Paper case.  If you buy it for $41.99, you will get $41.98 back in MaxPerks rewards.  Think of it like CVS.  You have to purchase something to get something.  However, we as couponers are smarter than that.  We will purchase the MaxPerks Bonus item, and then use those rewards we get on another MaxPerks Bonus item.  We are essentially 'rolling' the rewards.
Getting Started
Now how to get started. First you must sign up to get a Rewards card.  It's totally FREE to join, and in my opinion, well worth it.  If you are shopping in an OfficeMax retail store, you earn rewards by presenting your MaxPerks member ID card at checkout. If you do not have your MaxPerks member ID card with you, a store associate can look up your member ID number at the time of purchase. If you are shopping online or by phone, be sure to provide your MaxPerks member ID number at checkout. If you do not know your MaxPerks member ID number at the time of purchase, you can later earn credit for your purchase towards a reward by logging in to your MaxPerks account and entering the information from your purchase receipt that is requested in order to obtain credit for your purchase. For MaxPerks Bonus Reward offers, such offers are only available at the time of purchase and may be subject to additional requirements. You will receive credit for every qualified purchase that you make. If a purchased item is returned, the amount of the returned item will be deducted from your current account balance and, any rewards that were earned in conjunction with that purchase but not yet issued will be reversed.
MaxPerks Bonus Rewards
To take advantage of the MaxPerks Bonus Rewards special purchase offers, you must have your MaxPerks member ID number at the time of purchase and it must be applied to that purchase. From time to time, these types of offers will also require a coupon code, in addition to your member ID to qualify for the Bonus Reward. No MaxPerks Bonus Reward adjustments will be made after purchase. MaxPerks Bonus Rewards will be issued in the next statement cycle regardless of your qualified purchase balance, unless another timeframe is noted for that specific offer.  This is important because unlike CVS, you have to wait for your MaxPerks to come through.  It can take up to 30 days, and yes sometimes mine take the full 30 days.
Use Those Rewards
To keep track of your account balance and any rewards you have earned, just log in to your MaxPerks account online at www.officemax.com/maxperks. OfficeMax will send you electronic statement notification via email at the end of each month. You can log in to your MaxPerks account at that time to see the total amount of qualified purchases that you have made as well as any rewards you may have earned that have been issued to you. You may opt-out of receiving this notification by logging in to your account and updating your communication preferences. Once you have reached the $500 minimum or have earned a MaxPerks Bonus Reward, your Reward Card will be available to you at the end of the following month. For example, if you reach the $500 minimum on March 11, your $25 Reward Card will be available by the end of April. You may use your Reward Card at any OfficeMax retail location, online at www.officemax.com, or by phone. You may use up to three Reward Cards from the same MaxPerks account in a single transaction. Reward Cards are not redeemable for gift cards, general use pre-paid cards, phone cards and are not redeemable for cash unless otherwise required by law. No amount of your Reward Card may be applied as payment to any credit account. If you use your Bonus Rewards on other Bonus Rewards online, you will get FREE shipping!  That's totally worth it.
So, in the beginning you will have to pay something out of pocket.  But, if you are smart with your rewards, you can roll them forever!