Homemade Shea Butter Deep Conditioner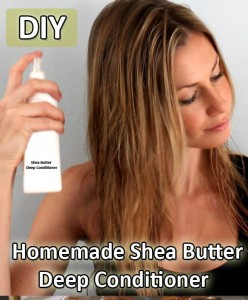 This time of year wrecks havoc on everyone's hair – dry, staticky, frizzy, yuck. You can go to the salon and get a deep condition for $60, buy some at the store that is full of chemicals for $20, OR spend a couple of bucks and make enough deep conditioner to last you many uses. Thanks to Home Remedy Shop for the super easy tutorial!
Ingredients:
Directions:
Combine the Shea butter, coconut oil, and grape seed oil into a microwavable bowl. Microwave for 30 second increments, stirring between times, until they are fully evenly blended.

Add the essential oil to the bowl. Prepare an ice bath in a pan and add the bowl into it and start blending the liquid with a blender. As you whip the mix, the texture will get creamy and will look like lotion.
 Transfer the contents into a plastic jar or bottle. Keep this bottle in your bathroom and use the conditioner whenever you need!