Homemade Mrs. Meyer's Liquid Hand Soap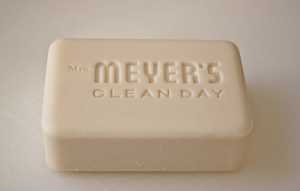 I love the Mrs. Meyer's products.  They have the most wonderful, luxurious smell to them.  The thing is, they are a bit on the expensive side.  When I can score regular old not so fancy hand soap for .50 cents at the dollar store with a coupon, well it makes me feel bad when I pick up that 12.5 ounce bottle of Mrs. Meyers for nearly $8 a bottle and consider buying it!
Then….I learned how to make it on my own for just about $5 a GALLON…yep just $5.00 and I can get a whole gallon of it!  If you were to buy a whole gallon of the liquid soap it would cost you over $50.00It lasts like forever, make wonderful gifts and even cute little goodie bag fillers for baby showers, bridal showers and so on.
To make this you will need:
1 Bar of Mrs. Meyer's Soap (they have basil, lemon verbena, lavender and geranium scents

Cheese grater 

2 Tablespoons of Liquid Glycerin (found in the band aid section at any drugstore or grocery store)
1 gallon of water
First grate your soap.  Then add the 1 gallon of water to a pot along with your grated soap.  Add the 2 tablespoons of Glycerin and start stirring your mixture over medium high until you have disolved your soap.  Let it cool for about 24 hours.
The soap will be harder and what I did was use my electric mixer to give it a good spin.  If it is too thick add about 1/2 cup to 1/4 cup of warm water to your mixture while you are using the hand mixer.  Now you have one gallon of liquid soap for a cost of $5 or less.  That is $45 in savings or more!
* A couple people have asked if this will ruin the pot but I have never had an issue as long you you do not burn it!