Recipe: No-Bake Pumpkin Spice Cheesecake Enchiladas with Caramel Drizzle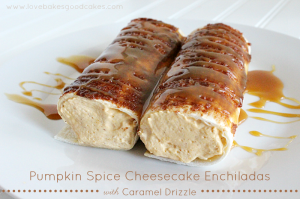 It's Pumpkin Spice EVERYTHING time! I bet you never thought you'd see Pumpkin Spice Cheesecake Enchiladas!!! Well, here it is and it's a fairly easy recipe, too. Thank you to Jamie at Love Bakes Good Cakes for this awesome recipe! Go over and tell her thank you from us. Also, check out her other pumpkin recipes. She has a ton!
Ingredients: (9-12 servings)
1 pkg (8 oz.) of cream cheese, softened
1 cup of canned pumpkin
1/2 cup of sugar
1/2 tsp of pumpkin pie spice
2½ cups pf Cool Whip, thawed
18-24 flour tortillas
6 tbsp of butter, melted
2 tsp of sugar
2 tsp of cinnamon
Caramel sauce
Directions:
In a large bowl, beat the cream cheese, pumpkin, sugar and pumpkin pie spice with an electric mixer on medium speed until well blended. Then gently stir in the whipped topping.
Divide the cream cheese mixture evenly between the tortillas. Roll each tortilla up and put on serving plates.
In a small bowl, combine the butter, sugar and cinnamon. Brush the mixture over the over the rolled tortillas.
Top with caramel sauce, and either serve immediately, or cover and place in refrigerator until ready to serve. It's that simple!