Recipe: Grinch Kabobs for Kids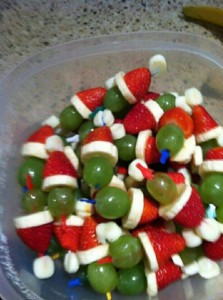 Looking for a healthy treat for Christmas time instead of the usual cookies and other sweets? Here's an adorable idea using fruit to make Grinch kabobs!
What You'll Need:
Toothpicks
Green grapes
Sliced bananas
Sliced strawberry ends (to look like Santa's hat)
Mini marshmallows
Directions:
Stack toothpicks starting with a green grape (stem side through the toothpick), then a slice of a banana, the slice of a strawberry (pointy end last), then a mini marshmallow (looks like the puffy end of Santa's hat).

Eat fairly soon after or the bananas will go bad quickly!