Recipe: Crustless Pumpkin Pie (Gluten & Dairy Free!)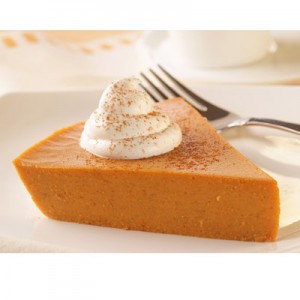 Holidays can be hard for those with food sensitivities, but luckily there are recipes out there that help with foods that people can actually eat! This pumpkin pie recipe is gluten-free and can be dairy-free (the directions include the option). Enjoy!
Ingredients:
2 cups pure pumpkin puree
1 370mL can evaporated skim milk (optional: substitute coconut milk for dairy-free)
3/4 cup liquid egg substitute (or 3 egg whites)
1/2 tsp salt
1.5 tsp cinnamon
1 tsp ginger
0.5 tsp nutmeg
1.5 tsp vanilla extract
2/3 cup granulated sugar
9″ pie pan
Large bowl
Hand mixer
Directions:
Preheat oven to 400 degrees
Lightly grease a 9″ pie pan
Combine all ingredients in bowl. Beat with hand mixer until smooth.
Pour into the 9″ sprayed pie pan and bake at 400 degrees for 15 minutes.
Reduce heat to 325 degrees. Continue to bake pie for 45 minutes, or until a knife inserted in center comes out clean.