Recipe: Caramel Apple Nachos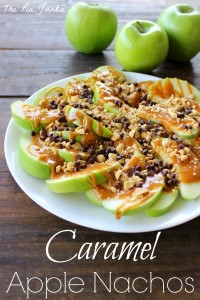 Apple season is at its finest right now – so is "having too much candy around the house" season! Combine these into this delicious snack or dessert idea from The Pin Junkie. Of course, you can always change candy and apple types, and add or take off some of the toppings. The apple nachos would also be good with chocolate syrup or pre-made caramel sauce.ENJOY!
Ingredients:
2 green granny smith apples, cored & sliced
half a bag of caramel
1 teaspoon water
1/4 cup chopped peanuts
2 Tablespoons mini chocolate chips (or M&Ms)
Directions:
1.  Unwrap all individual caramels. Place them in a saucepan with one teaspoon of water over medium-low heat.  Stir the caramel constantly until caramels are completely melted.
2.  Drizzle melted caramel over sliced apples.
3.  Sprinkle with chopped peanuts and mini chocolate chips.