Kids Recycled Cardboard & Yarn Snowflakes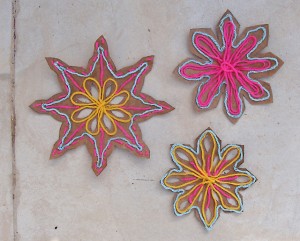 It's snowing already in many places in the country. Besides green and red decorations, what else can we create and have our kids be involved? Snowflakes of course! This is a simple and adorable craft made from recycled cardboard and any yarn you'd like.
Materials:
cereal box (or any thin) paperboard or cardboard
yarn in any colors
kid's washable glue (like Elmer's)
glitter, rhinestones, beads, buttons, etc.
Directions:
Make snowflakes from squares of paper and trace them onto the cardboard.
Cut out the shapes (for small details use tiny manicure scissors or a craft knife. It's not necessary, but it's a pretty addition).
Squeeze glue onto the cardboard snowflake in the pattern you'd like to place and decorate with your yarn.
Carefully lay the yarn down into the glue and add additional glue and details as desired.
Decorate however you'd like! Go nuts!
Hang and enjoy!
Thanks to Creative Jewish Mom for the idea!