How to Cook Pumpkin Seeds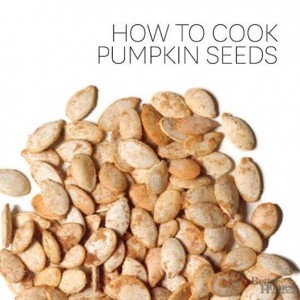 Most families like to save their pumpkin seeds from the pulp of their jack-o'-lanterns and allow them to dry. Then which recipe is the best for those pumpkin seeds? This 5-star rated recipe from Food.com is PERFECT and everyone will love it – simple, delicious, and traditional. Enjoy!
Ingredients (Makes 1 cup of seeds):
1 1/2 cups pumpkin seeds
2 teaspoons melted butter (olive oil or vegetable oil also work well) or 2 teaspoons melted oil (olive oil or vegetable oil also work well)
salt
garlic powder (optional)
cayenne pepper (optional)
seasoning salt (optional)
cajun seasoning (optional)
Directions:
Preheat oven to 300 degrees F.
It's okay to leave some strings and pulp on your seeds (it adds flavor), but be sure to clean off any big chunks.
Toss pumpkin seeds in a bowl with the melted butter or oil and seasonings of your choice.
Spread pumpkin seeds in a single layer on baking sheet.
Bake for about 45 minutes, stirring occasionally, until golden brown.