Handmade Icicle Ornaments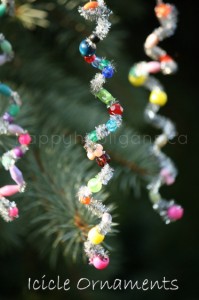 Looking for a simple, fun, and festive art project for the kids? These Icicle Ornaments are exactly that, plus it is a cute and sparkly sensory experience for the kids while decorating the tree!
What You'll Need:
metallic pipe cleaners
pony beads
thread (for hanging on the tree)
pencil
Directions:
To help keep the beads from falling off the end, bend the tip of each of the pipe cleaners around a few times.

Put fun colored beads along the pipe cleaner. Leave space between them so you can see the sparkly metallic.
Loop the pipe cleaner around the pencil to give it the spiral look.
Loop a thread through the top bead and tie in a knot. Hang on the tree. It's that simple!
Thanks to Happy Hooligans for the adorable idea!