DIY Glitter Ballet Flats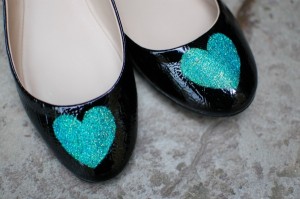 Don't spend $50 on a pair of glitter flats, especially when you can buy cheap, plain ones and Mod Podge the sparkles onto them yourself for a couple of bucks! Follow this super simple tutorial from She Knows for your own pair.
What You'll Need:
Shoes (plain or some ones that might be a little scratched up and you can cover it!)
Glitter
Clear Con-Tact paper
2 paintbrushes
Utility knife
Bowl
Acrylic spray sealer (optional)
Directions:
Find a design or shape that you like and print it out. Lay the contact paper over it and tape it down to keep it secure.

Using a utility knife, cut the shape out of the center. You will be using this interior part as the shape onto the shoe.
take the back off the contact paper and lay it over where you want it to be on your shoe. Make sure they are straight and even with the one on the other shoe.
Mix the Mod Podge with the glitter you want to use in about a 1 to 1 ratio. Paint a thin and even coat over the template.
Allow to dry completely, then repeat as necessary to make sure it is fully opaque.
Use an acrylic spray to seal the glitter on or use another thin coat of just mod podge.
Remove the contact paper and allow to dry again. All done!  A few minutes and you've got truly unique and adorable shoes!