DIY Easy Fall Rosette Wreath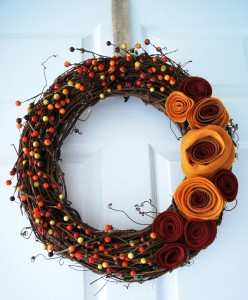 Make this colorful seasonal wreath for less than $10!
Here's how:
Start by downloading this rosette template from  to cut swirl shapes out of felt.
Tightly roll the ends of each flower together and secure them with double-sided tape.
Arrange your rosettes on a grapevine wreath and attach them with a hot glue gun.
Add sprigs of fall berries and secure with hot glue to complete the look.
For the full tutorial, visit Crafting Mom!