Copycat Homemade Key Lime Pie LARABAR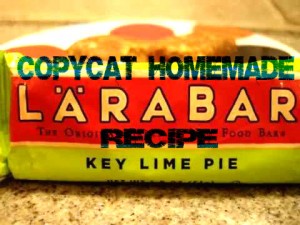 If you have never heard of LARABARs, you are missing out. They are so natural and made only with nuts and fruit – that's it! BUT they are quite expensive at nearly $2 per bar. My whole family loves them, and if we eat them every day, then we will be spending over $300/month. I found this amazing copycat homemade version of the key lime pie LARABAR on SparkRecipes and it's simple!
Ingredients:
3/4 cups cashews
3/4 cups almonds
1 1/2 cups soft dates, soaked and drained
zest of 1 lime
juice of 2 limes
3/4 cup shredded unsweetened coconut
1 tsp vanilla
1 tbsp coconut oil, optional
Directions:
Process cashews, almonds, and dates in food processor until finely ground and combined. Add in remaining ingredients, except oil, and puree until it starts to stick together. (When you pinch it it should stick together – if it doesn't you may want to add the oil in.).
Press into a glass dish (about a 9″ pie plate or square should work), sprinkle with some more coconut, and refrigerate for an hour or so to let flavors work together and to firm up.
Cut into bar shapes/pie slices (depending on what pan you used) and serve!
To store, separate bars with small pieces of parchment paper and store in a large container. The bars can be stored in the fridge for up to two weeks or in the freezer for longer.