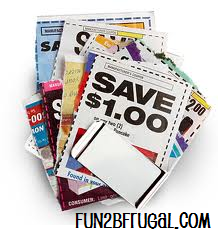 How to Stack Coupons
Coupons are such a  great way for us save money.  We wait for a sale, find a coupon, and get a great deal on our favorite products.  But did you know that you can take it one step further?  Some stores not only give you coupons from their store, but they allow you to 'Stack' their coupons with other coupons.  By 'stacking' coupons you will see even bigger savings, and possibly load up on FREE items.  I want to walk you through the couponing stacking process, so that you are not confused when you see two coupons listed for only one item.  So, How to Stack Coupons, shall we?
Types of Coupons
There are only two types of coupons.  A store coupon and a manufacturer coupon.  This is very important to know, especially when learning how to use them properly together.
Store Coupons
Store coupons are given out by the store.  They can be found in weekly ads, e-mail newsletters, even in the Sunday Newspaper inserts.  They can only be used at the specific store they are from. (Unless another store accepts competitor coupons.)
Competitor Coupons
Competitor coupons and store coupons are one in the same.  The reason they are called competitor is because you can use it at a store that did not issue it.  So, for example, Publix may consider Target a 'competitor'.  Therefore, if you had a Target coupon, you could use it at Publix as a competitor coupon.  If you use the Target coupon at Target, it is still considered a 'store coupon'.  But once you use it at another store besides Target, it turns into a competitor coupon.
Manufacturer Coupons
Manufacture coupons are issued by the manufacturer of the product listed on the coupon.  They can be used at any store that accepts coupons.  With a manufacturer coupon, you can only use one per item listed on the coupon.  They can be found just about anywhere now such as the Sunday Newspaper, store weekly ads, peelies, tear pads, blinkies, home mailers, junk mail, coupon booklets, magazines, printables, etc.
What Does Stacking Mean?
The term 'stacking' in the coupon world simply means using more than one coupon on one specific product.  Since a manufacturer coupon limits you to only use one manufacturer coupon per item, in order to 'stack' you will need a coordinating store coupon.  You cannot stack two manufacture coupons together for one item nor can can you stack two store coupons together for one item.
How to Stack Coupons
Now that we know the difference between both types of coupons, I want to show you how to stack coupons correctly.  I like visuals when I explain a deal, so look over the picture below with me.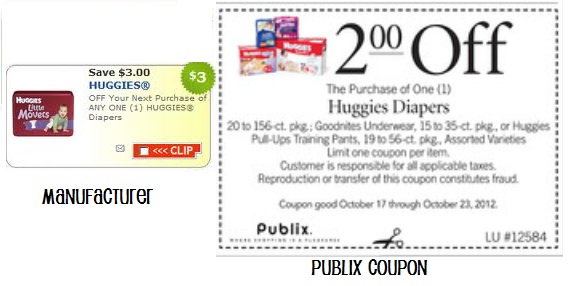 On the left we have a $3 off any Huggies Diapers manufacturers coupon.  On the right we have a $2 off any Huggies Diapers Publix store coupon.  Since one is a manufacturer coupon and the other is a store coupon, we are allowed to use them together.  Yes, that's right!  We can use them on the same product!  So, let's put a deal scenario together.
Huggies Diapers Reg $12 on sale for $9.99 at Publix
Buy (1) Huggies Diapers $9.99
Use (1) $3/1 manufacturer coupon
Stack with $2/1 Publix store coupon
Final Price $4.99!  Reg. $12!
By using a sale price and stacking coupons, you just saved a total of $7 on diapers!  That's a wonderful savings!  Especially when you think about all the people walking around that just pay $12 every time they need diapers!  Ahh!  That's crazy.  Ok, now I want to show you an example of using a store coupon as a competitor coupon with the same deal.
Huggies Diapers Reg. $12 on sale for $9.99 at Bi-Lo
Buy (1) Huggies Diapers $9.99
Use (1) $3/1 Manufacturer coupon
Stack with $2/1 competitor coupon
Final Price $4.99!  Reg $12
Do you see how the store coupon changed to a competitor coupon?  It's the same coupon, just used at a different store.  The point I want to make is, know which stores give out store coupons.  Know which stores accept competitor coupons.  Know what stores are considered competitors!  It's okay to ask.  It's better to ask and save money, then not to ask and waste money.  Also, you don't want to go into a store without understanding their coupon policy.  I hope you now know how to stack coupons properly.
If you have any questions, please feel free to leave a comment below!