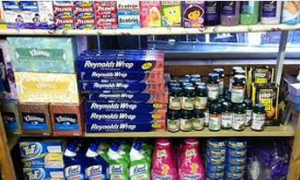 If you are a big couponer, you most likely have a great stockpile of stuff.  You may even have stuff that you are not going to use and maybe got because it was free.  Here is a great way to host a Stockpile Swap Party:
Pick a day of the week when the majority of your friends can attend

Advertise and invite your friends and family via Facebook
Be very clear on the guidelines of your party.
Each person generally is asked to bring ten new, unopened grocery, cleaning or toiletry items. Make these terms very clear. Also ask each participant to check expiration dates and double-check that the items had never been opened or used.
Some people may also want to bring other things that are new and free, like free samples (grouped in a bag) or free items like books, cell phone covers, vouchers for free products and more!  If your friends can jams and jellies, they may want to bring those.
Give each person a name tag with one of four different colors. These colors were used to divide into four smaller groups. Then established an "order of play". An example might be,  a rotating cycle of Pink, Green, Red, Blue.
As a color group would go to the tables, each person can select only one item. rotate through the same four groups until everyone had accumulated ten items.
If there are any extra items, you can raffle them off or donate them to a local charity.
It is encouraging to see people go home with ten new items because you knew they were things they hand-picked and really could use! You can also have a  table full of coupons that were free for the taking and door prizes to give away.  Encourage others to bring coupons they are not going to use.
If it is a hit, plan one for about every 3-6 months to give people a fun way to swap and save!