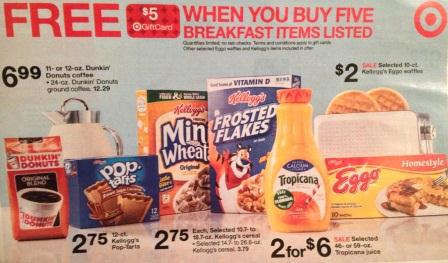 Nest week there will be a Target Gift Card Deal on breakfast items.  I love it when orange juice is on sale!  Also, the Kellogg's Eggo Waffles are included in the sale which makes for a good deal!  Check it out below.
**Target Deal Idea**
Buy (5) Eggo Waffles $2 each
Pay $10 OOP
Get Back $5 Target Gift Card
Final Price $5 or $1 each!
Also, be sure to sign up for the Kellogg's Family Rewards program.  They give you high value Kellogg's coupons all the time.  If you are already a member, check your account for any coupons that might work for this deal!  I got a high value $1.50/1 Pop Tarts coupon!
Thanks, Thefrugaldivas!