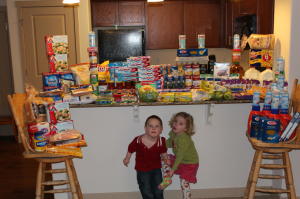 Remember my shopping trip from last week?  Well, I didn't give you any prices because I wanted you to guess!  It's been a week and now I must return to the store for my weekly shopping trip.  But, before I do I want to share the winners with you!  I choose the winners who had the closest guess without going over.
Total Before Price Matching & Coupons $278.57 Winner Gem $270.50
Total Before Coupons $221.15 Winner Shelby T $210.10
Total After Both $114.40 Winner Denise Hobbs $107.00
What was on my list?
5 Tide Detergents

10 Secret Deodorants

8 Barilla Pastas

4 Atkins Meals

3 Bags of Chips

1 Bag of Fries

2 Taco Seasoning

1 Sour Cream

4 Salsas

1 Bag of Rice 5 lb.

2 Cans of Green Chilis

8 Aquafresh

4 Colgate Toothpaste

4 Colgate Toothbrushes

5 Always Liners

4 Sponges

4 Ruffies Trash Bags

1 Chapstick

1 Advil PM

12 Baby Food Pouches

1 Bag of Apples

1 Box of Popcorn

1 Bag of Sugar 4 lb

1 Apple Juice

1 Bag of Corn on Cobb

2 Bags of Tortillas

2 Milks

2 Cans of Olives

4 Cream of Chicken

4 Cream of Mushroom

2 Cheddar Chz Soup

4 Cans of Corn

4 Cans of Green Beans

6 Protein Bars

2 Shampoo

2 Bread

4 Finish

4 Lunchmeat

1 Egg

1 Family Meat Package

1 Head of Lettuce

1 Jar Spaghetti Sauce

4 Mitchum

4 Boxes Quaker Chewy Bars 

2 Kids Yogurt

Bananas