Starbucks Caramel Apple Cider Recipe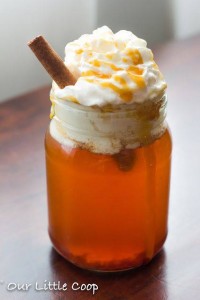 Today would be a great day to enjoy a caramel apple cider just like from Starbucks! Here's the simple recipe:
Ingredients:
3 Tablespoons of Starbucks Cinnamon Dolce Syrup $9.95 for a 1-liter bottle (that's A LOT of syrup) or you can make your own by creating a simple syrup of 1/2 cup of light brown sugar, 1/2 cup water and 1 tablespoon of cinnamon. Simmer in a small saucepan until brown sugar has dissolved. Use 3 tablespoons of this as well.
12oz of Treetop Premium apple juice (or any premium apple juice)
Caramel syrup
Whipped cream
Directions:
Add 3 tablespoons of cinnamon syrup into your mug

Add 12oz of apple juice, mix and warm

Top with whipped cream 

Drizzle with caramel syrup

Enjoy! 
Thanks to Our Little Coop for the recipe!