Recipe: "Stained Glass" Sugar Cookies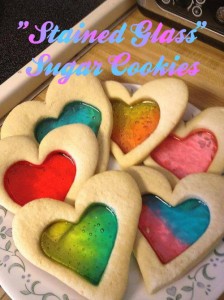 This is the coolest and most creative use of hard candies I've seen since the DIY Christmas platters using peppermint candies I posted back in December. They're beautiful, fun to look at, easy to make, and completely, 100% edible! Make them for your next potluck, for holidays, or just for fun. I can't wait to hear how you like them!
Ingredients & Tools:
Jolly Ranchers Hard Candies (Any hard candy will work, but cannot be sugar-free candy)
Your favorite sugar cookie recipe (either premade or made from scratch, both work)
2 sizes of cookie cutters (these were hearts, but you can use your choice of 2 of the same shape, but different sizes)
Baking sheet
Wire racks
Waxed paper
Directions:
Roll out sugar cookie dough and cut out the cookies with a large cookie cutter. Use a spatula to move them to the baking sheet.
Using the small cookie cutter, remove the centers of the large cookies that are on the baking sheet.
Place 2 Jolly Ranchers (or other hard candy) of different colors inside the new empty center of the cookies. Choosing 2 different colors gives the stained glass look.
Bake cookies with candy centers according to your cookie recipe's instructions.
Let the cookies cool on the baking sheet for 5 minutes to allow the candy center to harden before you then transfer them to wire racks to cool completely.
Once fully cooled, you can move them onto a plate or into a storage container, but to prevent the hard candies from sticking together place waxed paper between layers of cookies. Enjoy!