Recipe: Slow Cooker French Toast Casserole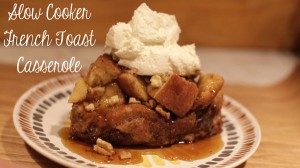 Doesn't this Slow Cooker French Toast Casserole by Rachel Ray look AMAZING? It's simple, too. Be sure to PIN IT and/or share it to your Facebook page so you don't lose it!
Ingredients:
1 loaf white bread, cut into 1-inch cubes
8 eggs
1 1/2 cups milk
1/2 cup cream
1/4 cup maple syrup
Zest of 1 orange
1/2 cup toasted walnuts
3 tablespoons butter, cut into cubes
Nonstick cooking spray
Maple syrup and bananas, for serving (Optional: butter or margarine for taste)
Directions:
Preheat oven to 400ºF.
Place bread cubes on a baking sheet and toast in the oven for 8-10 minutes or until golden brown. Remove from oven and allow to cool.
In a large bowl, whisk together eggs, milk, cream, maple syrup and orange zest. Add the toasted bread cubes into the egg mixture. Add in walnuts and combine.
Line the crock of a slow cooker with aluminum foil then spray with a nonstick cooking spray. Pour the bread and egg mixture into the slow cooker and dot the top with the cubed butter.
Set the slow cooker to cook on high for 3 hours or set to low for 5 hours.
Serve French Toast topped with maple syrup, sliced bananas, and more walnuts and butter if desired.