Recipe: Nutella No Bake Bites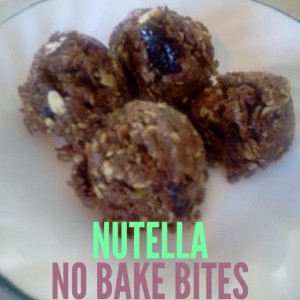 A take on the favorite recipe of peanut butter and chocolate no bake cookies, this recipe adds the addicting and amazing NUTELLA spread, too! These cookies can be made gluten-free if you make sure the oats are certified GF and not cross-contaminated. YUM!
Ingredients:
1 cup oats

1/2 cup peanut butter

1/2 cup nutella

1/3 cup honey

1/2 cup flax

1/3 cup coconut

1/3 cup cranberries or raisins

1/2 cup mini chocolate chips

1/4 tsp salt

1 tsp vanilla
Directions:
In a large bowl, add all ingredients. Mix ingredients together well.

Once fully mixed, spoon out the mix onto a tray. It's totally up to you how large you want the bites to be.

Refrigerate and serve!