Recipe: DIY Turkey Cookie Pops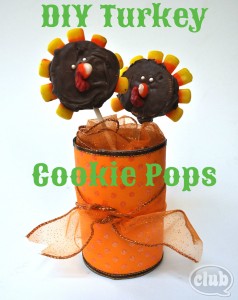 Here's a simple and delicious "craft" from Chica Circle that you can do with the kids and give as gifts (or eat them yourselves!). Stop over at Chica Circle for the visual tutorial on these cookie pops, then also do the cute recycled aluminum can craft in the picture! Would be a great addition to the cookie pops to give as a gift!
Ingredients & What You'll Need:
chocolate (brown) and red candy melts
candy corn
popsicle sticks
wax paper
Oreo cookies (chocolate or vanilla)
Candy pearls
Directions:
Melt chocolate candy melts in a bowl for one minute and stir until smooth. Dip one end of lollipop stick in melted candy and stick in center of sandwich cookie.
Place on wax paper and let cool in refrigerator for 5 minutes until hardened.
Either dip cookie into melted candy or use a knife to spread on all sides of cookie. While chocolate is still soft, arrange 8 candy corn pieces along edge starting at the top on one side.
Finish arranging all 8 candy corn pieces all the back of one side and place on wax paper, candy corn side down.
For face, place one candy corn sticking up in center for beak. Place two candy pearl dots for eyes. Let harden in refrigerator again for 5 minutes.
For the turkey's wattle, place a few red candy melts into a small ziplock bag. Melt for about 20-30 seconds and squish in bag until smooth. Clip one end of bag and squeeze a tiny bit on one side of the candy corn. Let harden.