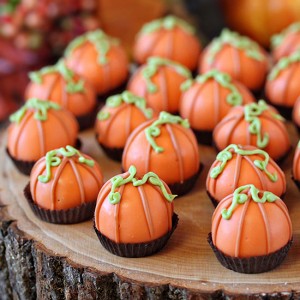 If you like the taste of pumpkin bread, then you will love these truffles from GHK! Decorate them like mini pumpkins to for a beautiful Fall dessert.
Ingredients:
9×5-in. (about 1 lb) loaf of cooled pumpkin bread (can be store bought or homemade)
1 cup (about 8.5 oz) cream cheese frosting
24 oz orange candy coating
2 Tbsp chocolate chips or chocolate candy coating
2 oz green candy coating
Directions:
Break apart the pumpkin bread into small bits into a large bowl, then work gently between your fingers until it is in tiny crumbled pieces.
Add the frosting to the pumpkin bread crumbs then stir together until well-combined and no streaks of frosting remain. The mixture should be moist and hold together if you squeeze it into a ball between your fingers. If it is too dry, add another spoonful of frosting to get it to the best consistency. Keep adding frosting until the mixture is at the right consistency.
Use a small 1″ candy scoop or a spoon to scoop out small balls of the pumpkin bread mixture. Roll the dough between your palms until perfectly round, then place them on a parchment or waxed paper covered baking sheet.
Stick the balls in the refrigerator and chill them for 2 to 3 hours or until firm.
Put orange candy coating in a medium microwave-safe bowl and microwave until melted, stirring every 30 seconds to prevent overheating.
Use dipping tools or a fork to dip a pumpkin bread truffle into the orange candy coating. Let the excess candy drip back into the bowl, then place the truffle back on the baking sheet. Repeat until all of the truffles are dipped.
Melt the chocolate chips or chocolate candy coating in the microwave, then stir the melted chocolate into the remaining melted orange coating to make a deeper orange color. Transfer the dark orange coating to a paper cone, piping bag fitted with a small round tip, or a plastic bag with a small hole cut in the corner. Draw piping of intersecting lines across the top of the truffles to create pumpkin creases.
Melt the green candy coating in a microwave-safe bowl, then transfer it to a paper cone, piping bag fitted with a small round tip, or a plastic bag with a small hole cut in the corner. Pipe curls of green coating on top of each pumpkin to look like vines.
Refrigerate the truffles briefly to set the candy coating.
For the best taste and texture, serve the Pumpkin Bread Truffles at room temperature, and store extra truffles in an airtight container in the refrigerator for up to 2 weeks.