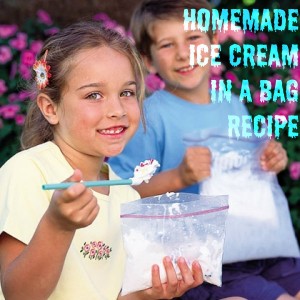 Its finally warm outside and the kids can get all their energy out by playing outside. Use this to your advantage and your whole family can make ice cream in bags by running around! Note: This recipe is enough for ONE serving, so you'll need all of the listed ingredients for each person.
Ingredients & Other Things You'll Need:
Ice cubes (enough to fill each gallon-size bag about half full)
1 cup half and half
1/2 cup salt (The bigger the granules, the better. Kosher or rock salt works best, but table salt is fine.)
2 tablespoons sugar
1/2 teaspoon vanilla extract
1 pint-size ziplock bag (this can also be done in tupperware type containers)
1 gallon-size ziplock bag
Your favorite ice cream toppings or ingredients, like chocolate chips, cereal, fruit, marshmallows, etc.
Directions:
Combine the sugar, half and half, and vanilla extract in the pint-size bag and seal it tightly. Double check it's sealed completely.
Place the salt and ice in the gallon-size bag, then place the sealed smaller bag inside as well. Seal the larger bag. Now shake the bags and/or have the kids run around while shaking their bags until the mixture hardens which is about 5 minutes. Feel the small bag to check when it's hardened enough.
Take the smaller bag out of the larger one, add toppings, and eat the ice cream right out of the bag. Toss the bag when you're done eating – super easy cleanup!