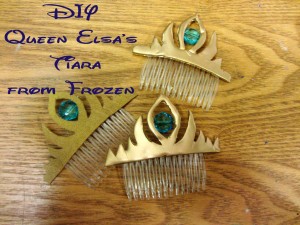 Unless you live under a rock, you know of the amazing Disney movie, Frozen. It's the hottest animated movie of all time and literally every Frozen-themed item is either completely sold out or being sold for 4 to 10x the original price. People are even upset they can't buy beach towels! I'm here to help with that, at least a little bit. You can make a Queen Elsa of Arendelle tiara yourself in about half an hour and for about $10 (yay!).
What You'll Need:
Wax paper
Hot glue gun (and LOTS of glue sticks)
Metallic gold spray paint
Blue, faceted aqua colored beads
Wire cutters
Floral wire
Plastic hair piece comb
Print the template
Scissors
Xacto Knife
Optional: For easier versions, use felt or cardboard cut out instead of glue
Directions:
Print out the PDF of the template from Instructables, then

 tape it to the back of some waxed paper. (For the easier felt versions, tape the template to some felt and trace it onto the felt by holding it up to a light source, or trace and cut out cardboard).

Hot glue all over the stencil showing through the wax paper and put the comb into the bottom so it will be nice and strong. Try to complete a whole section at once so the glue will be even and not show layers.

Once glue is cooled. cut it out using some sharp scissors to get really clean edges. Refine the shape with an Xacto knife to get sharp tips on the tiara, 

Once the crown is as you like, spray with gold spray paint.
For the jewel, cut a length of wire that will reach from one side of the middle of the teardrop center to the other. Put the jewel on the wire and hot glue the wire to the tiara.
Do your hair up like Queen Elsa on Coronation Day, and you've got yourself some happy kids!