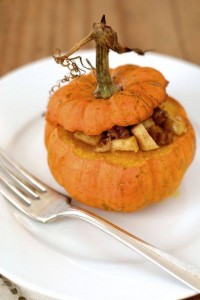 Many places across the country are getting storms for Halloween! The kids (and parents!) are going to be soaked and cold after Trick-or-Treating, so make this delicious recipe for Baked Mini Pumpkins to warm up! This recipe serves 4.
Ingredients:
4 mini pumpkins
1/4 teaspoon salt, divided
1 cup diced, unpeeled apple
3 tablespoons chopped pecans
2 tablespoons melted butter
2 tablespoons brown sugar
1 teaspoons vanilla extract
1/4 teaspoons ground cinnamon
pinch nutmeg
pinch ginger
Directions:
1. Preheat oven to 350`. Carefully cut off top 1/2-inch of pumpkins with a serrated knife. Scoop out seeds and membranes in pumpkins; discard. Sprinkle 1/8 teaspoon salt evenly among cavities of pumpkins.
2. Combine apple and remaining ingredients in a medium bowl; sprinkle with remaining 1/8 teaspoon salt. Stir well to combine. Fill pumpkin cavities with apple mixture. Replace tops of pumpkin on top of apple mixture.
3. Place pumpkins on a baking sheet lined with parchment paper. Bake at 350` for 55 minutes or until pumpkins are tender when pierced with a fork.