Oil Of Olay FREE Cleansing Wipes At CVS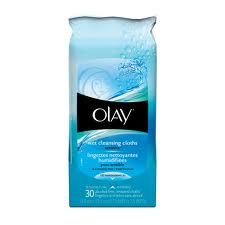 Oil of Olay
Oil of Olay is one of those luxery items I always tell you about.  Without coupons their products can be pretty pricey.  But, we're smarter than that and we wait for a sale so we can add a coupon and get a HOT deal.  Speaking of HOT deals, CVS has one running this week!  Olay products always make for great stocking stuffers and added bonuses in any gift you are giving.  I do have to say that sometimes it's hard for me to part with my Olay stash.  I do love them so.
If you are planning on making a trip to CVS this week be sure to get this deal while you are there!  They have the Oil of Olay Facial Cleansing wipes for $4.49 and there is a $2/1 Oil of Olay coupon that can be found in the P&G 9/30 coupon insert.  The Red CVS Coupon Machine is also spitting out a $3 off Olay coupon that can be stacked with the $2 coupon, making for a HOT deal.  So, be sure to scan your CVS card as soon as you walk in and you can get the following deal:
**Oil of Olay Deal Idea**
Buy (1) Oil of Olay Facial Cleansing Wipes $4.49
Use (1) $2/1 Oil of Olay Coupon P&G 9/30
Stack with $3 coupon printing from the CVS Coupon Machine
Final Price FREE!
Now, you may notice that by using these coupons you should get overage.  However, CVS does not allow overage, so you should just expect them to adjust the coupon down for you.  If will still be FREE, just not a money maker.