Recipe: Mini Pumpkin Pie Sliced Cookies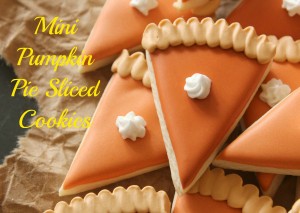 Make these adorable fall & Thanksgiving themed treats that are the perfect size for snacking! They're also pretty simple to make.
What You Need:
Circle cookie cutter
Pumpkin orange 20-second icing
Stiff-ish crust colored piping icing (You may have to mix ivory with a little bit of warm brown}
Stiff white piping icing
Directions:
Cut circles out of cookie dough (sugar or whatever you choose) and cut into pie slices. For these in the picture, it is a 4″ circular cutter. The size of the circle you choose will change the size of the "pies" you make. Then bake as directed and let cool.
Flood the wedges with the pumpkin orange icing and let dry.
For the "crust" on top, use a #101 tip near the left corner of the cookie, thin side up. Use a loose M shape until you get to the other side. To clean it up or make it look sharper, use a toothpick.
To make the "dollop of whipped cream" on top, use a star tip with a #16 or #18.
Put on a Thanksgiving serving tray that you can make for less than $2, and voila! A cheap and delicious Thanksgiving gift for friends and family.
Thank you to Sweet Sugar Belle for the great cookie decoration idea!