Melissa & Doug Halloween Costumes 15% Off Coupon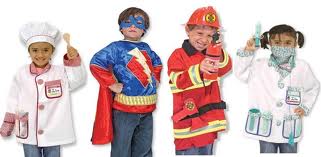 If you are still looking for an adorable Halloween costume for your kids, look no further.  Melissa & Doug just put out a 15% off Coupon code that you can use on their Halloween costumes!  What I love about the Melissa & Doug Costumes is that they can be used all year long.  They are good for any type of dress up, and ALL kids love to dress up, not just on Halloween.
To find their costume section simply click on the Halloween button.  It will take you to all their FUN choices.  Once you pick out the one you love, use promo code COSTUME15 during checkout.  Don't wait until last minute because then you will end up with a generic Walmart costume that every other kid has!  Be unique and think ahead!