Keurig Brewer For Only $56 Shipped!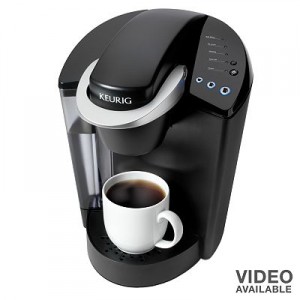 Keurig
*Update- In order to get the $20 back in Kohl's Cash you will need to add another $4.01 to your cart so that you meet the $100 before tax.  Just add a little filler item maybe a stocking stuffer, or consider the following:
Keurig K-Cup Portion Pack Diedrich Coffee Morning Edition Blend -$11.99
If you add this pack of Keurig K-Cups you can submmit for an extra $1 off on your MIR.
The Keurig Brewer has been on my mind all day!  Thanks to a friend who brought up a debate on whether or not she should FINALLY give in and get herself one.  My answer of course was YES!  They are awesome.  There are so many drinks you can make with them such as tea, coffee, apple cider, vitamin water, Snapple, and one of my favorites that we will be making soon, hot chocolate!
With all that said I found a great price on one from Kohl's.  The Keurig Brewer Elite B40 is on sale for $119 down from $149.99.  And if you order it by Oct. 24th, you will score $20 Kohl's Cash Back to spend.  AND there is also a Keurig Mail In Rebate to submit for!  Oh, AND you will get an extra 20% off by using promo code SPIDERWEB and of course FREE shipping.  It all sounds like a deal, now take a look at how I break it down.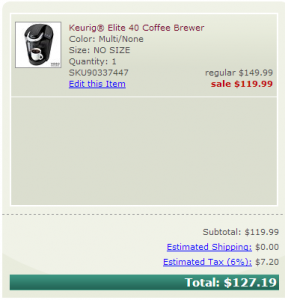 1. Add the Keurig Brewer Elite B40 to your cart.  The total will be $127.19
2. Continue to checkout and add code SPIDERWEB in the promo box.  Pictured below.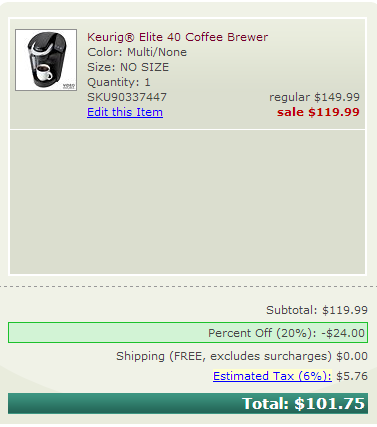 3. Your total will then go down to $101.75.  This is what you pay out of pocket.
4. Get Back $20 in Kohl's Cash.
5. Submit for $25 Keurig Brewer Mail In Rebate.
See how that works?  Let me break it down in a deal scenario.
**Keurig Brewer Elite B40 Deal Idea**
Buy (1) Keurig Brewer Elite B40 $119.99
Use Promo code SPIDERWEB for 20% off
Pay $101.75 OOP
Get Back $20 Kohl's Cash
Submit for $25 MIR
Final Price $56.75 including shipping & tax :)
Now you can use all those FUN FREE K-Cup samples that I post!