How To Cut Your Child's Hair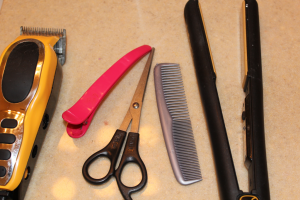 Ok, so my lovely almost four year old daughter decided to take a pair of scissors to her hair.  This is the second time in her life this has happened and both times were on Daddy's watch!  I came home from finding a great deal at the store for you guys only to open the closet door and find a long beautiful blond curl!  Oh. No. I immediately looked for Launa.  For those of you who don't know her, she has had shoulder length curly blond hair.  I find her all grins and she has no idea I know.  After all who could notice the big gap around her right ear?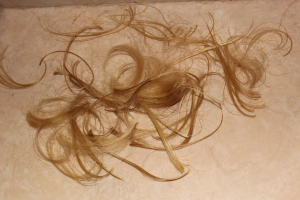 After examining her and the damage I realized it wasn't that bad.  Well, at least not as bad as the first time!  Since she snipped a pretty big chunk I had no choice but to even it out.  The first thing I did was gather the tools.  I needed of course scissors, a comb, a hair clip, a razor, and since her hair is curly, a flat iron.  The next thing I did was straighten it.  I cut it even all the way across the back with the strand she initially cut herself.  Then, to give it some style I choose to give her a small A line bob.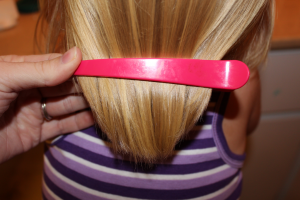 To give her the slight angle, I took all of her hair back and clipped it.  Then I pulled a little on the left and right side at the same time to make sure it was even.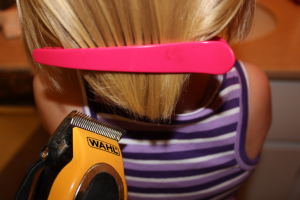 Then I took the razor and cut straight across while the clip held her hair together.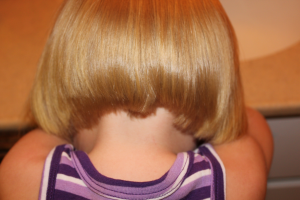 I just want to pause for a moment and have everybody take note that she is not happy about this hair cut so she is NOT cooperating at all!  Which is why her arms are crossed and her head is on the counter!  Anyways, after you use the clippers you will remove the hair clip and snip any strays.
*Still pouting*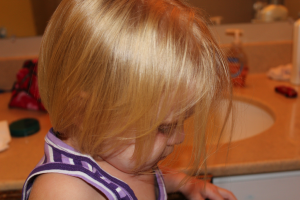 Needless to say she woke up the next morning and was pretty upset that her hair had not yet grown back.  I told her not to cut it again if she wanted it long!
So, if your child decides to take a pair of scissors to her hair like mine did, you don't have to run out to the salon.  You can grab your scissors and give her a cute new style yourself!
*Do you have any tips on this subject or may be a story to share?  Please leave a comment below, we would love to hear about it!