Homemade No-Sew Fall Leaves Headband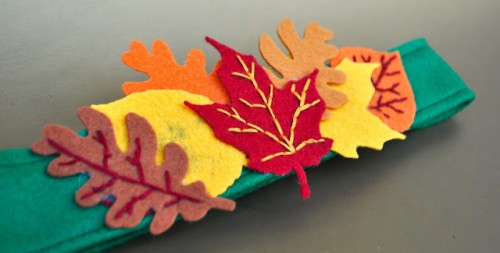 Want to get a little festive before Thanksgiving? Make these adorable and SIMPLE Fall Headbands — No sewing is required! Kids will love making these to wear for Thanksgiving.
What You'll Need:
Pre-cut felt leaves from art supply stores (or you can use different colors of felt and cut yourself)
Embroidery floss and a needle (optional, or draw the veins on with a sharpie)
Felt (for the headband)
Glue gun
Velcro
Sewing machine (optional: helps it stay together better, but not necessary)
Directions:
Stitch veins on 3-5 leaves (or draw them on with sharpie markers).
Measure your child's head and cut the headband out of felt. Make sure it's about 4″ tall and leave about 2″ of overlap for the velcro. Fold over in half and hot glue or sew the headband together.
Hot glue or sew the velcro to the ends of the headband.
Hot glue the leaves however you'd like to the front of the headband. Use many different colors and leaf designs to make it super unique. Stitch on if you'd like for extra support.
Thanks to Make Life Lovely for the great idea!