Fun & Fruity Turkey Tutorial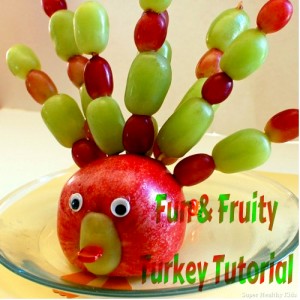 Get kids excited about Thanksgiving and make them a super healthy and delicious snack at the same time! These fruity turkeys are easy and fun.
What You'll Need:
Wooden skewers
Bento toothpick and regular toothpicks
Googly eyes
Grapes and/or other fruits to add to the skewers.
Directions:
Cut the side off from an apple to make it sit flat.
Affix the googly eyes with peanut butter or use something else to make eyes. Use half of a grape as the beak and stick a Bento toothpick into it over the stem part of the apple.
Put fruits on the skewers and stick them in the hind part of the apple to make the tail.
Use toothpicks to stabilize the hind part of the apple since the skewers make it back-heavy.
Give to kids and enjoy!
Thank you to Super Healthy Kids for the fun snack idea!