FREE Head & Shoulders?!?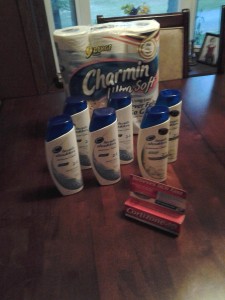 Several readers have contacted me about the BOGO Head & Shoulders Coupon that was in the P&G 7/01 insert.  They have gone to redeem them and the coupon has automatically taken off $9.49.  The coupon is BOGO up to $9.49 in value, but it is automatically taking off the entire $9.49 at the register.  My husband loves Head & Shoulders so I was planning on using this coupon anyways, but now I can't wait to get the deal!  CVS has them 2/$9, so after this coupon they are both FREE.  You might need a filler item for the overage, but it's worth a try!  Marie got everything pictured above at CVS for only $0.09 OOP!  And, actually she used the gas gift card that she received the previous week!  Great deal!
*Have you redeemed this coupon yet?  Share what you got with us!
Thanks, Marie!