Easy DIY Scrappy Wreath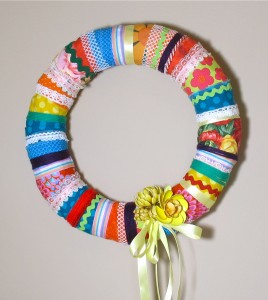 Looking to make a spring wreath? Better yet, trying to think of a way to save some of your child's favorite baby outfits and other stuff? This DIY scrappy wreath is the answer! Takes only a few minutes and a few bucks.
Go to the craft store and get a plain straw wreath or foam wreath. You can also save a couple of dollars and go to the hardware store and buy foam tubing, cut it into the size you want, the duct tape the two ends together.
Cut fabric out of your favorite old clothing, blankets, ribbon, or other items. Hot glue them around the wreath securely. Keep going until all of the foam or straw is covered.
Staple, tack, or glue on buttons, flowers, pacifiers, pins, earrings, necklaces, or any other decorative item you want to the wreath.
When the wreath is how you want it, you can either hang it as is, or use a long piece of ribbon or fabric, stick it through the center, and tie it in a a bow to use as the hanger.
Thanks to BluKatKraft for the picture!