Easy DIY Kids' Turkey Shirt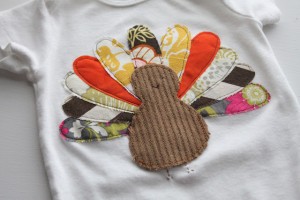 Don't go to Etsy and buy your kids a shirt to wear at Thanksgiving! Instead of paying $30 per shirt, you can make this adorable 2-sided turkey shirt for just a couple of dollars. You can personalize it with different colors and add a bow for a girl if wanted.
Supplies Needed:
1 Shirt or Onesie
6 different prints of scraps of fabric
Piece of cardboard
Fusible interfacing (this is wonder under)
Turkey Template
Buttons (if desired)
Sewing Machine
Iron
Thread
Damp towel
Directions:

1. Iron the fabric onto the template and cut them out. Leave 1 of the designs of fabric as the turkey's body.
2. Peel the fabric from the interfacing and arrange as you desire.
3. Place a piece of cardboard between the 2 layers of shirt and a damp towel on top of the turkey and iron everything well.
4. Stitch around the feathers and body. Add buttons for the eyes, stitches for feet, and a piece of cloth for a beak if you want to add more detail.
Thanks to Dwellings By DeVore for the directions and cute picture!