DIY Recycled T-Shirt Bag Tutorial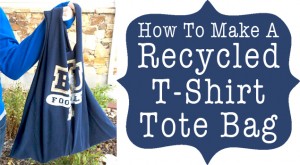 This GENIUS and nearly free recycled t-shirt bag from One Good Thing by Jillee and Instructables would be a fun thing to make for gifts, to use at the grocery store, or just to carry a lunch instead of a paper bag.
What You'll Need:
Heavy weight cotton T-shirt (heavy weight fabric is best)
3- 5 straight pins
Pencil or pen
Dinner plate
Scissors
Sewing machine
Here is a picture tutorial. If you want the full step-by-step tutorial, visit Instructables.