DIY Nutter Butter Turkey Cookies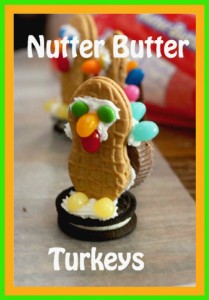 How cute are these Turkey cookie creations? These would be fun to make with your kids as a "craft" to do before Thanksgiving to bring as a treat to your family meal or as a treat to eat later this month. Thanks to Life with Moore Babies for the tutorial (visit the site for a step-by-step visual tutorial and pictures of her adorable babies!)!
Ingredients:
Nutter Butters

Oreos

Regular size Reese's Peanut Butter Cups

Icing (LWMB Blog used decorating, but any icing that stands strong is fine)

mini M&Ms

jellybeans
Directions:
Place icing on the back of a peanut butter cup and stick it to a Nutter Butter. Then using more icing to hold them in place, stand both the Nutter Butter and the peanut butter cup up on an Oreo.
Note: If you are doing this activity with kids, have them choose their own colored candies! It will make it more "theirs". Messy is fun! :)

Now, add 2 mini M&Ms for eyes, an orange jelly bean for the beak, and a red jelly bean for the waddle on more frosting.  

Then squirt icing across the top of the peanut butter cup, so you can add jelly beans for feathers. Each of the blogger's turkeys had five feathers.  

Also add icing then two yellow jelly beans at the bottom of the Nutter Butter for feet.