DIY Glowing Fairies in a Jar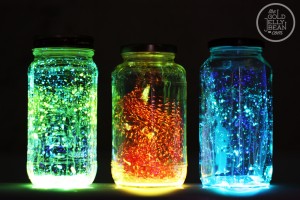 Most of us have seen the picture of fairies in a jar that went viral last year. We all found out that it was fake and photoshopped, much to many kids' dismay. Here's a REAL way to do it, no photoshop needed. BIG thanks to The Gold Jelly Bean for helping to make so many kids' days brighter with this tutorial!!
What You'll Need:
Glass jar (cleaned one from spaghetti sauce or similar, or you can buy them at the dollar store)
Glow sticks
Rubber gloves
Scissors
Eye protector (like goggles or glasses)
White tulle (optional, but looks better!)
Directions:
Cut the tulle into a larger size than the jar and stick it inside. The tulle helps it look like the fairies are suspended in the jar, not just stuck on the sides of the glass.
Put on rubber gloves and crack the glow stick to get the glow to activate, then stick the end of the glow stick into the jar and cut the top off. Be careful with this! There are glass and chemicals inside the stick, so be sure to not touch your eyes.
Shake the stick all over the inside of the jar. This will take a while because it doesn't just pour out, it may even get clogged. Use a new one, don't try to get the glass out.
After putting in the amount of glow liquid you want, put the cap on and shake. It will probably take 2-3 necklaces or 3-4 bracelet glow sticks to get the right amount.
Turn out the lights and watch the amazement in your kids' eyes!