DIY Easy Acorn Napkin Ring Tutorial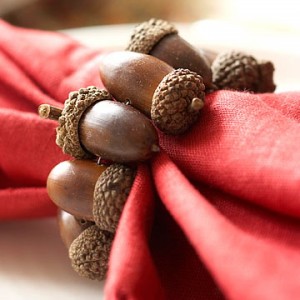 Now that Halloween is over, it's time to start thinking of how you want to decorate for the rest of Autumn and for Thanksgiving!
This super simple napkin ring from BHG is made from real acorns and takes only a couple of minutes to make. Doesn't it look really difficult? It will impress guests for sure, plus they can be used year after year!
To make this natural napkin ring, drill tiny holes through the sides of nine or 10 acorns. Using wire, thread the acorns together, alternating the acorns top-to-bottom so they nestle together tightly. When you get to the end, just tie the wire in a little twist and hide behind an acorn. All set and ENJOY!