DIY Dollar Store Rose Petal Skirt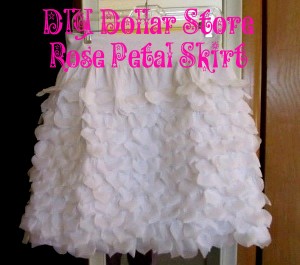 Spring and summer weddings, Mother's Day, and fun family parties are all coming up soon. Why not make yourself or your daughter(s) this really cute rose petal skirt that was created by Fave Crafts? It would be adorable with different colored petals, made into dresses, or a tunic.  Be sure to check out her website to see a step-by-step picture tutorial to help with creating your new skirt!
What You'll Need:
1-2 XL white men's undershirt (brand new is best if you're doing a white skirt, used but very clean is okay for other colored petals)
Bagged fabric rose petals (buy at dollar or craft stores)
Scissors
Ruler
Pins
Sewing machine
Directions:
Lay your t-shirt flat and cut off the bottom for your skirt piece. Cut a piece that's long enough to make a skirt. She suggests to measure it against a skirt you already own that's a length you like. The skirt will already has a hem since it's made from the bottom of the t-shirt, so you hardly have any work left.

Next, sew the petals onto the skirt piece. Place one petal at a time, sewing them in a straight line, one right next to each other. Keep going until your skirt is covered completely by petals.
For the top row, sew the petals upside down the iron them down so that the stitching doesn't show.
Now you need to make a waist band. To make this foldover waistband, first measure a pair of foldover pants you already own (if you have them) or measure another pair of  pants.
Now, cut more fabric from your t-shirt to use as your waistband. Cut double the width that you want your waistband to end up being (she cut 6 inches wide to make a 3 inch waistband). The length of your is what you measured from your pants.
Sew this newly cut fabric into a tube, then fold the tube in half over itself so that the wrong sides are facing each other.
Now put your skirt piece around yourself or whoever the skirt is going to be wearing it. If it's way larger than your waistband, sew a basting stitch all the way around the top of your skirt piece and pull the threads to gather it until the circumference of your skirt's waist is the same as your waistband.
Put the skirt inside of the waistband so the raw sides of the waistband and gathered edge of the skirt are together, and the top of the waistband is facing down. Now, pin the waistband to the skirt.
Sew around the top of your skirt to attach the waistband to the skirt piece. Then flip the waistband right side up, remove the basting stitch (if it's showing), and enjoy!