DIY $3 Dessert & Treat Stand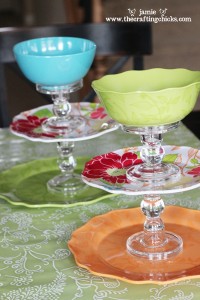 I showed you how to make one for Christmas, but why only have these simple and cheap stands for the holidays? You can make them and use them year round! Get everything either at the Dollar Store or Thrift Store, mix and match the colors, designs, and materials for your tastes and make them shabby chic! You can make them with a plate or a bowl on top, or you can make it with only 2 tiers instead of three. Thanks to Jamie at The Crafting Chicks for the cute and easy tutorial!
What You'll Need:
2 candlestick holders
A larger plate or platter
A slightly smaller plate
A bowl or another platter
Permanent craft glue (like E6000 or Gorilla Glue)
Directions:
Use a liberal amount of glue on the bottom of the first candlestick holder and stick it to the bottom plate in the middle (either measure to find exact middle or eyeball).
Glue top of candlestick holder and place the littler plate on it.
Repeat with the next candlestick holder and bowl.
Allow to dry for an hour before use, then enjoy!
HAND WASH AND DRY ONLY!