Conversation Hearts Valentine's Wreath Tutorial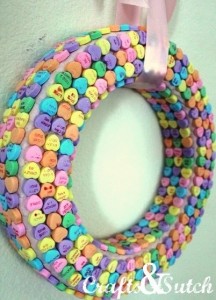 Create this super simple Valentine's Day themed wreath in just an hour or so and about $10-$20!
What You'll Need:
Circular foam form with four flat sides

Pink tissue paper
Hot glue
4 bags of Sweethearts Conversation Hearts candy (or two 1 pound bags)
Big pink ribbon (or other ribbon to hang the wreath on)
Directions:
Wrap the tissue paper around the foam and hot glue it on to secure it. This covers the boring white foam.

Start  hot gluing the conversation hearts in one row and go all the way around the wreath. It is easier and neater to do one row than to go three across.
Do this as many times as it takes to cover the wreath completely, but leave the back that will be against the wall or door without candy on it.
Tie a ribbon around and through the circle to hang, and that's it!
Thanks to Crafts & Such for the picture and tutorial!