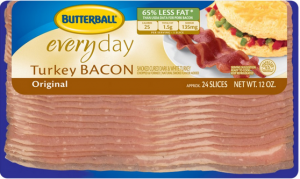 Butterball turkey bacon will be on sale for $0.99 at Walgreens so you can score it for free with this new coupon! Print a new $1.00 coupon to score breakfast for free! To get the coupon, go to the Butterball Facebook page and click "Find Yourself Here."
You have to take a short, sorta cute survey but then your done. When prompted, choose to share the offer on Facebook with your friends  and you get to print the higher $1.00 coupon instead of a $0.55 coupon.
The coupon does use Java to print, so if you are a Mac user, try printing from Firefox. Print now; it won't last long!  Make sure you share this offer with friends!