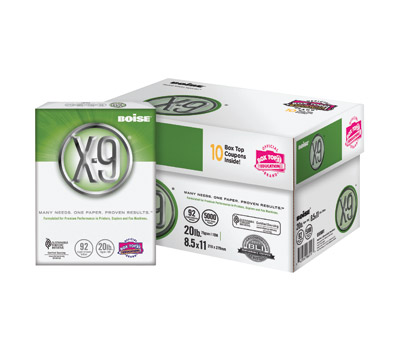 Oh yeah!  This week is not only awesome for coupons, but it's also awesome to stock up on printer paper!  One of the most common questions I get is "how do save on paper for your printable coupons?" .  Easy.  I use the office supply stores and take advantage of their rewards.  At first it will seem overwhelming, but I assure you, it's just like the drug store deals and rewards!  Also, just like the drug stores, the office supply stores have different reward systems.  The one you want to take advantage of this week is OfficeMax. Check out the deal below.
**OfficeMax Deal Idea**
Buy (2) Boise X-9 Copy Paper $43.99 each
Pay $87.98 OOP
Get Back $87.96 MaxPerks
Final Price $0.02 or A Penny Each!
What's great about this deal is that you don't have to run out to the store to get it!  It will be shipped right to your door!  Just like with drug stores, you want to keep 'rolling' your MaxPerks on other MaxPerks items!  You will pay something out of pocket the first time, but if you are careful, everything from here on out will be FREE!
Watch this OfficeMax video I did in the store.